Melamine Resin Plate Cleanroom Door
Key words: Composite Panel、Fireproof Door、Sanitary Units
The company manufactures and markets a complete line of cleanroom panel, cleanroom door, cleanroom window and other components of cleanroom materials since 1995, which up to the GMP Standard requirement.
INQUIRY
---
- Marine decoration materials: The company manufactures and markets a complete line of composite rockwool panel, composite aluminum honeycomb panel, fireproof door, sanitary units and other components of cabin facilities since 2005, and has established long-term cooperation relations with domestic shipyards in China. The company and products are authorized for ISO 9001-2000 in addition to safety of life at sea (SOLAS), CCS, LR, GL, ABS, KR, DNV, NK, EC.
Melamine Resin Plate cleanroom door which consists of door frame, door piece, hinge, and drop seal, can be classified as single door and double door. For the single type, the size could be 900*2100, or 1000*2100. The double type has the size of 1500*2100 or 1800*2100. We also can provide your desired size. After installation, this product perfectly fits to other decorative panels without exposed screws. No dust will be generated. The melamine board is not only bright in color, compact in structure, but also comes with long service life and excellent resistance to corrosion, high and low temperature. Currently, it is widely applied to the pharmaceutical cleanroom or other high grade cleanrooms.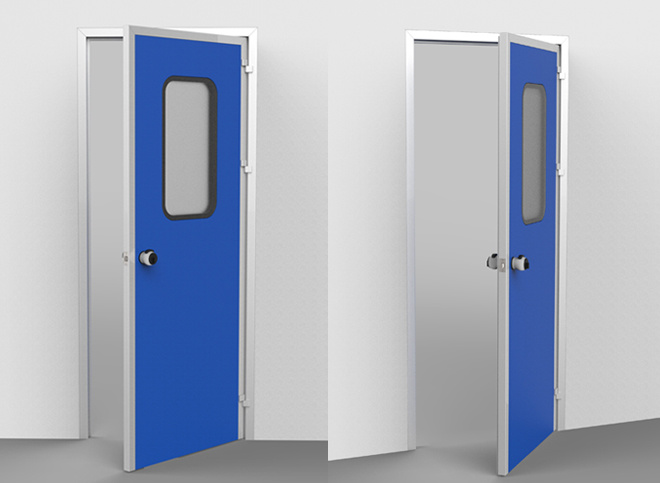 Directly molded melamine resin plate cleanroom door commonly comes with the color like blue and orange. It also can be supplied with your desired colors. Similarly, our product is equipped with an automatic up and down drop seal to effectively protect the floor while providing dustproof and automatic airproof performance. The door frame is made of aluminum alloy, and the door employs paper honeycomb or rock wool. In addition to the double layer rectangular observation window, both press lockset, interlock system and aluminum alloy hinge are applied as well.
Features
1. Melamine resin plate cleanroom door adopts the big square or round window design to effectively solve the melamine board related problems like deformation or cracking caused by the embedded installation of the window.
2. The product is non -discoloring and durable. It can ensure the excellent air tightness in the room where big differential pressure exists.